A Canvas for Street Artists
Brûlé has invited several different artists to express their creativity, by creating works for the bar area.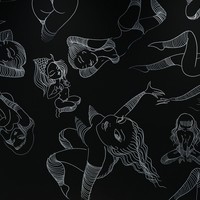 Fafi
Fafi started out as a graffiti artist, painting female characters known as the Fafinettes, who are part of her imaginary universe, The Carmine Vault.
Other figures will also be created, as well as many exhibitions and collaborations. Fafi has collaborated with several big name clothes brands, including Haute Couture and ready-to-wear.
At the W Paris-Opéra, Fafi has transformed Marie-Antoinette into the character of Coquette.
Yué Wu
Yué Wu was born in 1983 in Beijing. His childhood was spent in the Beijing academy of fine arts, where he grew up with his grandfather, a professor in printmaking. He joined his parents in 1991 in Pantin, and graduated from the École Nationale Supérieure des Arts Décoratifs of Paris in 2007.
Whether in illustration, painting or animation, for Yue Wu drawing technique is the basis of his creative process. He likes to describe his work as a combination of the traditional bases that he acquired in China, and the freedom of thought and inspiration he found in France. For Burlé, he has signed an 8m long frescoabove the bar counter that chronicles crazy Parisian nightlife from the Belle Epoque, through the Roaring Twenties, up to the legendary nights of the luxury hotel.
No less than 50 celebrities from the music, fashion and design scene are depicted and pay tribute to Parisian nightlife through different eras. Among the faces you will spot people like Azzedine Alaïa's first black muse, Beaumarchais, Japanese painter Foujita, or Kiki of Montparnasse and Tekilatex.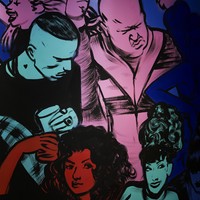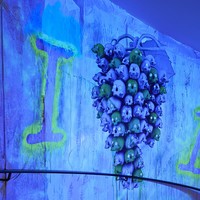 Ludo
Ludo has been taking over urban space in Paris, London and New York with his posters of mutant plants and animals that look as if they've been genetically modified by the city and technology around us.
His sculptures and paintings (acrylic or oil paper) defend nature submerged by urban ferocity, lending his work the force of contemporary vanities.
For W Paris-Opéra, he tackled the staircase leading up to Brûlé. Under a bluish fluorescent light, he gives the famous "I heart NY" a Parisian twist: "I grapes Paris" with a bunch of skulls as a reference to the catacombs in lieu of a heart.
Nasty
Nasty is a reference in Parisian graffiti. He made his début in 1988 with colourful frescoes on metro walls. In his exhibitions, he uses the famous enamel plaques of the RATP that he's been pinching for more than 10 years. He also uses metro maps to perpetuate the original spirit of graffiti.
A born and bred Parisian with an eternal passion for the hip hop movement, Nasty drew his inspiration from the bible of street art, Subway Art. In 1988, at the age of 13, he made himself known with graffs on metro walls in the four corners of the capital. He joined the group AEC (Artiste en Cavale or "artists on the run") in 1990, and in 1992 exhibited in Paris for the first time, triggering the real growth of his art. In 2009, he exhibited in the Grand Palais on the occasion of "TAG parfait".
For Brûlé, Nasty went as far as invading the restrooms, graffing Charles Baudelaire's poem "Les Hiboux"as a wink to the night owls who'll be flocking to Brulé.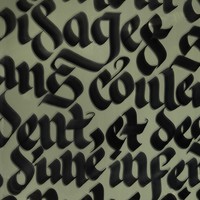 Monday to Sunday

Available for private events only